Helaman Halls
Helaman Halls,
on the west side of campus
, provides room and board accommodations for men and women. The Cannon Center, centrally located within Helaman Halls, features an all-you-care-to-eat dining room, a creamery/grill, and a lounge with a large screen TV. Residents also have access to wireless internet access in the Cannon Center. Because Helaman Halls residents do not have access to full kitchens they are required to have a full meal plan. Students may choose from the
Dining Dollars Blue
,
Open Door 7
, and
Open Door 5
meal plans.
Wireless internet access is provided in each building and individual computer leases are available. Laundry facilities, storage areas, piano rooms, and a basement kitchenette are accessible in each hall (in the lobby of Building 9). Facilities also include sand volleyball courts, basketball courts, and large lawn areas. Small refrigerators are provided in each room and are typically 2.5 cubic feet in size. Rooms come without decor.
Rental payments include all utilities, wireless internet access, and Residence Life activities.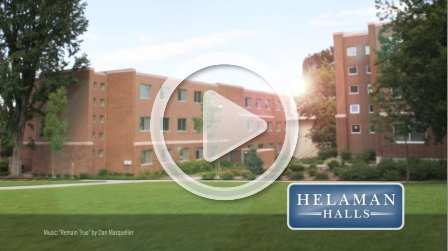 Shared Room with a Sink
Considered the norm in Helaman Halls, the shared room with a sink offers the traditional style college room. The room provides a bed, desk, chair and closet for each student. In addition, an in-room sink offers students a private area to get ready for the day while the provided mini fridge allows students to store perishable items. Beds may be raised on provided bed legs allowing extra storage. In addition, a small nook above the closet allows students to store objects like skis and snowboards. Residents share a communal style bathroom with the rest of the residents of their floor.
Rates
Spring 2014 - $515
Summer 2014 - $533
Fall/Winter 2014-15 - $3,350
View the full payment schedules
Shared Suite
David John Hall offers women the opportunity to experience Helaman Halls with a bit more convenience than the shared room with a sink option. In these rooms students are provided with the same basic furniture the shared room with a sink offers. In addition, the shared suite has a bathroom that links two bedrooms together, allowing residents to share a bathroom among four people instead of thirty. The bathrooms provide a separate counter/sink area, allowing residents to still access the mirror and sink if the shower is occupied. There is ample storage in the bathroom for the toiletries of all four students. This is a great option for women that may not be interested in using a community bathroom. Outside of David John Hall, each building in Helaman Halls offers two suites in the mezzanine of each building, where a lobby is provided for quiet study or social gathering.
Rates
Spring 2014 - $561
Summer 2014 - $581
Fall/Winter 2014-15 - $3,600
View the full payment schedules
Single Suite
In addition to its shared suites, David John Hall also offers six single suites throughout the building. The single suite is set up with a small living area that two girls share. Adjacent to the living area are the two single bedrooms and the private bathroom. The single suite is ideal for women who desire a more private and homey experience in Helaman Halls.
Rates
Spring 2014 - $585
Summer 2014 - $605
Fall/Winter 2014-15 - $4,580
View the full payment schedules